Fire Resistancy Test in accordance with AS1530.4-1997 sections 2 & 3 as appropriate on a non-load bearing steel stud partition.
To achieve this the panel was to last -/120/120.
(a 2 hour test)
Testing
To pass the fire resistance test Fireshield (Insul-crete) had to subject our reinforced masonary render to a 2 hour fire test on a non-load bearing partition. 3m x 3m. To achieve the
AS 1503.4-1997 the panel had to survive a 2 hour fire test bolted to a furnace, -/120/120
This was achieved and the test was then extended to see what it could achieve.
The test went for a total of 4 hours before being terminated.
The first test was at the laboratories of the CSIRO Sydney, to see if the system was capable of withstanding a full scale fire test to achieve AS 1530.4 1987. This was completed on the 12.11.2000 successfully.
The deck head, subjected to a fire test of 156 minutes, with the render side exposed to the furnace, was found to have "insulation on the unexposed face of 136 minutes."
After the bushfires in Duffy, ACT in 2003, the Australian Standards relating to buildings, was extensively reviewed, with the introduction of a new Australian Standard AS 3959 nationally. In the wake of the devastating February 2009 Black Saturday Bushfires, the Victorian Government decided to act immediately to ensure new homes, alterations and additions in Victoria to be designed, constructed and located with greater bushfire protection.
The standard now requires the construction of buildings in bushfire prone areas to improve their resistance to a bushfire, from burning embers, radiant head and flame attack, and a combination of the 3 attack forms.
Fire Shield meets all these requirements.
This is twice the requirement of the Australian Standard.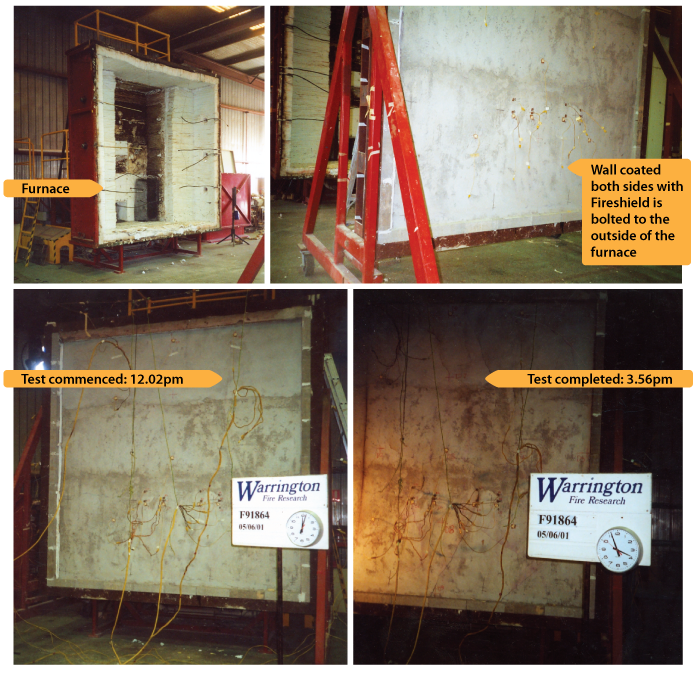 In accordance with Fire Resistance Testing, of Australian Standard 1530.4 1997 Sections 2 and 3, the test was successfully completed on 05.06.2001 at the laboratories of Warrington Fire Research Centre, Melbourne.
Fire radiating heat on the panel covered with Fireshield Reinforced Masonary Render
(Insul-crete) inside the furnace was in excess of 1000°C for the required 2 hours.
The outer face of the panel at this time was approx 80°C.
There was no change to the temperature on the outerface for a total of 2 hours. The test was continued for a further 2 hours until it was terminated.
The total testing time was
4 hours.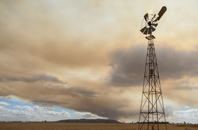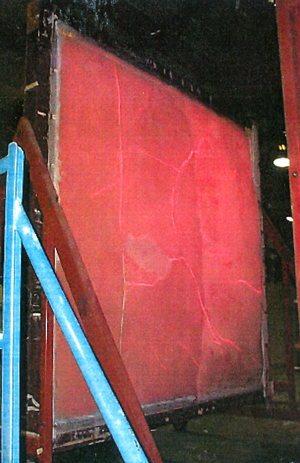 There are 6 different Bushfire Attack Level categories, the BAL categories are:
BAL – LOW - Very Low
BAL – 12.5 - Risk: Low - Ember Attack & Radiant Heat
BAL – 19 - Risk: Moderate - Increasing Ember Attack, Windborne Debris, Radiant Heat 12.5+ kW/m²
BAL – 29 - Risk: High - Increasing Ember Attack, Windborne Debris, Radiant Heat 19+ kW/m²
BAL – 49 - Risk: Very High - Increasing Ember Attack, Windborne Debris, Radiant Heat, Exposure to flames from the Fire Front
BAL – FZ (Flame Zone) Risk: EXTREME - Direct Exposure to Flames, Radiant Heat, Embers from the Fire Front
kW/m² - By definition, watt per square meter is the rate of heat energy of one watt transferred through the area of one square meter.
Fireshield meets all these requirements, above and beyond, as per the Warrington Test, to be in compliance with these standards.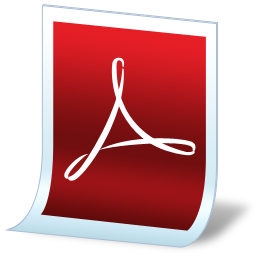 Click Here to view the full test results
Australian Standard
A Flame Exposure Test for AS1530.8.2 requires a panel to be subjected to a 30 minute exposure using a furnace, which does not impose temperature in excess of 850 degrees celsius.
Concrete slab on ground or enclosure by external wall or an FRL of 30/30/30 or protection of underside with 30 minute incipient spread of fire system or be tested for bushfire resistance to AS 1530.8.2
Non-combustible material (masonry, brick veneer, mud brick, aerated concrete, concrete) with minimum thickness of 90mm or an FRL of -/30/30 when tested from outside or be tested for bushfire resistance to AS 1530.8.2
Roof with FRL of 30/30/30 or tested for bushfire resistance to AS 1530.8.2. Roof/wall junction sealed. Openings fitted with non- combustible ember guards. No roof mounted evaporative coolers
Test: 241 Minutes
FRL of -/240/180
Test: 241 Minutes
FRL of -/240/180
Test: 241 Minutes
FRL of -/240/180